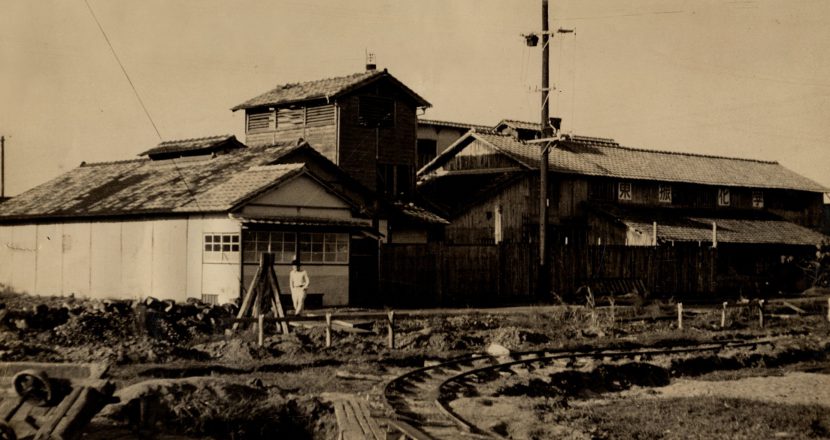 2028年の創立80周年に向け、化学全体をひとつのジャンルと捉え、
新規商品開発を更に推進いたしております。
At present, we are making a great effort to develop and promote a new main product toward the 80th anniversary of the company foundation in 2028.
1948年

メーカーとして出発。松ヤニからロジン、テルペン油を精製する会社として東京都中央区京橋に本社を定め会社設立。
広島県福山市に工場を開設。
Founded as a manufacturer. TOSHIN KAGAKU CO., LTD.(the head office) is established in Tokyo, Chuou-ku Kyobashi as a company to refine ROJIN, TERUPEN oil from the pine resin,. It sets up a factory in Hiroshima, Fukuyama City.

1949年

ゴム軟化剤パインタールの製造。商工省ゴム皮革課の要請に協力。
Rubber softening medicine pine tar manufacture. It cooperates with the request for the quotient rubber leather section in Ministry of Commerce and Industry.

1952年

ロジン・テルペン油のJIS規格工場に認定。様々なロジン誘導体の研究・製造。
It is authorized in ROJIN ・ TERUPEN oil JIS standard factory. It researches and manufactures various ROJIN derivatives.

1953年

商社機能も加える。当時揺籃期にあった界面活性剤の販売農業用乳化剤の応用普及。
Function as a business company added. It provides surface active agent which was in the infancy at that time. It applies and popularizes the emulsification medicine for agriculture.

1955年

本社を移転し、心機一転商社としての歩みを始める。
国産松ヤニの枯渇により、工場を閉鎖 商社として、界面活性剤の応用開発に専心。本社、東京都中央区日本橋通。
界面活性剤の知識を応用して、付加価値のある添加剤の開発及び用途拡大。流動パラフィン・粉末リグノスルホネートの国産化。塗料・香粧品・農薬等様々なジャンルの添加剤・助剤・変性改質剤の開発・安定供給。取引先のジャンルの拡大。化学業界全般を網羅し、素材メーカーとともに様々な素材を開発・提案する。
Head office moved / totally restart as a business company. The factory in Hiroshima is closed due to the exhaustion of the domestic pine resin. It restarts as a business company to develop the application of surface active agent.
The new head office is set in Tokyo, Chuou-ku Nihonbashi. It develops and expands the additives with added value through the knowledge of surface active agent. It produces domestically flowing paraffin and powder RIGUNOSUHONETO. It develops and provides addictives, support agent and stability of the strange sex quality agents for paints, incense and agricultural chemicals. The expansion of the customer's range.
Covering the whole chemical market, it develops and proposes new products in cooperation with material manufacturer.

1964年

大阪営業所開設(大阪市西区立堀北通) 
Osaka office opens (Osaka City Nishi-ku)

1965年

当年より、事業拡大に伴い、段階的に本社・大阪営業所ともに商業の中心地に移転。大阪営業所は現住所に定着。
The both offices move to the commercial centre stage by stage because of the business expansion from this year. Osaka Office resides in the present address.

1974年

日本橋税務署より優良申告法人として表敬状授与。以来現在に至る。 
It has been a superior tax report corporation since 1974.

1988年

創業者田崎敏行勇退(翌年逝去)。後継者として平野伸之
TOSHIYUKI TAZAKI, the founder(is dead in 1989), retires voluntarily. The actual president, NOBUYUKI HIRANO succeeds.

1995年

本社を中央区八重洲に移転
The head office relocated (1-7-4 Yaesu, Chuo, Tokyo 103-0028 Japan).

2001年

新たなジャンルへの進出、海外も含めたネットワークの確立を推進
Entering into other kinds of markets and promoting to set up more networks with overseas.

2008年

大阪営業所を大阪支店に。 
We changed the registration to the Osaka branch office from Osaka sales office.

2012年

3代目代表取締役社長に平野淳、代表取締役会長に平野伸之就任。
The Third head, Jun HIRANO , took the position of president of the company. Nobuyuki HIRANO , took the position of chairman of the company.

2014年

代表取締役会長、平野伸之逝去。本社2階スペースにSalon de Toshinを開設。
The chairman Nobuyuki HIRANO (the second president) died on August 1, 2014.
Salon de TOSHIN opens in 2nd floor of Tokyo head office.

2020年

本社を千代田区内神田に移転
The head office relocated (1-16-8 Uchi-Kanda, Chiyoda, Tokyo 101-0047 Japan).